Long before having taken off from big-screen celebrities such as Humphrey Bogart and Michael Caine, the trench coat gradually began to become a necessary garment in the wardrobe of Northern Europeans, so to cope with the rainy climate of their countries.
Its roots:
The myth tells that the trench coat owes its origins and rugged appeal to the trench warfare of the First World War. Waterproof coats invented by Scottish chemist and inventor Charles Macintosh and British inventor Thomas Hancock (founder of the British rubber industry) in the early 1820s were the precursors.
The "mack," a rain-resistant garment designed by Macintosh and Hancock, was made of rubberized cotton and intended for the well-dressed man whose days included riding, shooting, fishing, outdoor activities, and military service. As technology progressed, the rubber coating became more breathable, heat-resistant, and water-repellent. In 1853, John Emary, a Mayfair gentleman's tailor, developed an improved raincoat, which he sold under the name Aquascutum (from Latin, meaning "water" and "shield"). In 1856, Thomas Burberry, a young draper from Hampshire, followed in his father's footsteps and founded his own company. Burberry's "gabardine" fabric, invented in 1879, was the most breathable yet, weatherproofing individual strands of cotton and wool fiber rather than the finished textile, proving popular with explorers, aviators, and other adventurous gentlemen. Both Aquascutum and Burberry claim credit for "inventing" the trench coat during WWI, but the truth is that the two companies helped popularize an existing coat by adapting it for military use.
The outbreak of the Great War, however, created other and more vital needs. In this way, the trench coat was removed as a coat from fancy military uniforms and acquired a new look, more camouflaged and useful, to dress the soldiers on the battlefield.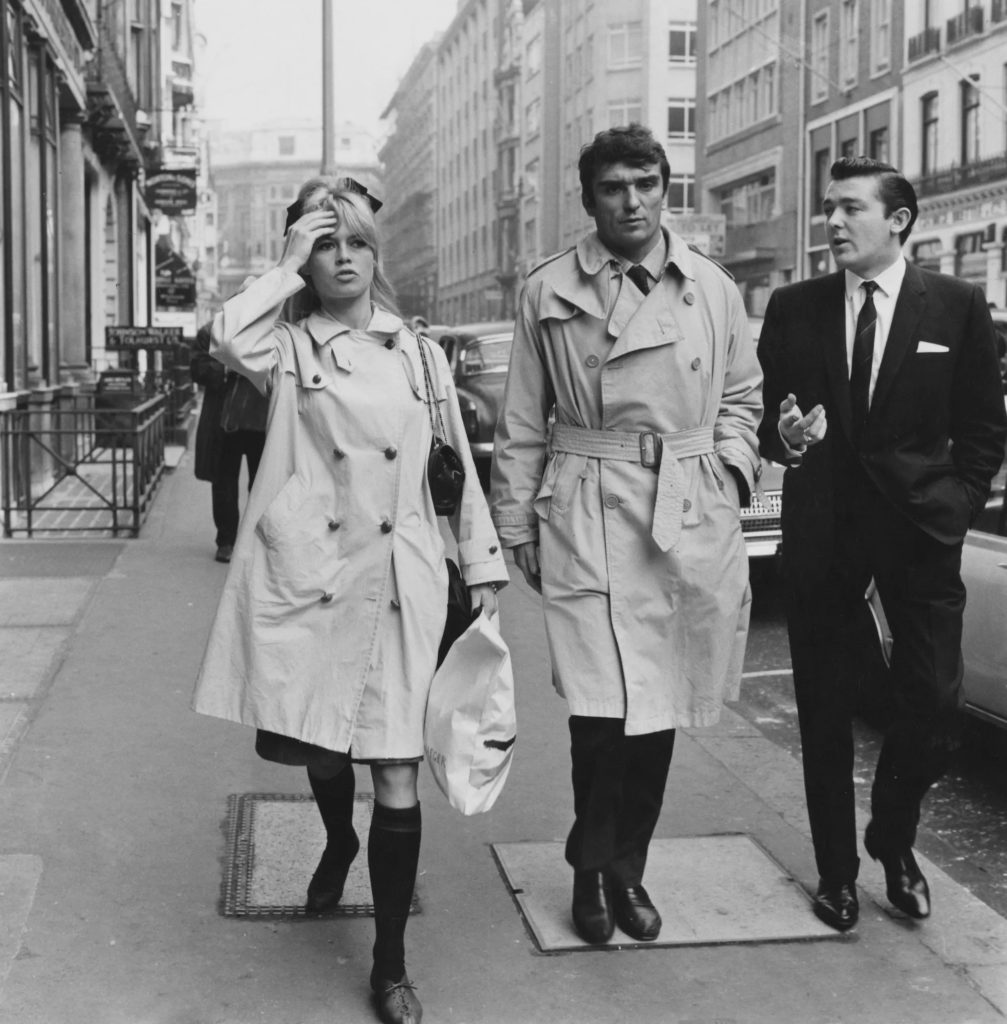 The trenchcoat in the 20th and today:
But how did a garment that was imprinted and combined by the public under war and hardships, did become the emblematic garment we know today? Hollywood helped the trench coat enter a more fashionable wardrobe. It was the great Humphrey Bogart -with the beige and cruciform dress in Casablanca- who brought it back to the fore, combining it with a fedora hat, a cut in the standard male style in film-noir films.
A few years later, Alain Delon continued his Bogart career with his imposing performance in the thriller "Le Samouraï" (1967), before Michael Caine with "Get Carter" opened his own incision in the London style. From Harrison Ford in "Blade Runner", Keanu Reeves in "Matrix" to Audrey Hepburn in "Breakfast at Tiffany's", this unisex coat wins the year and still offers an elegant touch to any outfit.