by Ntina Nikolaou
What is it like to be the best chef on the planet? Your restaurant for the 5th year in a row to emerge as the best in the world? To have for 20 years 3 stars in Guide Michelin, 5 caps in Gault & Millau and 3 dishes in Guide Pudlo? To have reigned for half a century in your kitchens and to have created one of the ten most legendary dishes in the world? What's it like to be Guy Savoy?
When we decided with Thalis Pitoulis, editor and visionary of MANCODE, to give you a taste of French haute cuisine, we agreed that we want to convey to you my experience, my own Paris, to introduce you to the people of the taste that I distinguish and know. In the age of hyper-information and hyper-chatter, we innovate by highlighting the essence of the information in experience and truth. My first guest of choice on this trip could have been none other than the special Guy Savoy. April 2018, Paris. I am the guest of Stéphane Bern, a well-known friend and supporter of our country, on his show "A la bonne heure", on RTL radio – the most talked about and successful show of the year – to present my second book "Grèce – La cuisine Authentique de Dina Nikolaou – Hachette Cuisine', which had just been launched on the French market, but also our Evi Evane. I arrive loaded – I had promised them a shake and other goodies from Evi Evane – and stressed as always. Before I enter the settings for the radio show, in a live broadcast of course, I am informed that we will be joined by chef Guy Savoy, who is eager to meet me. I was shocked. Savoy has always represented to me perfection on all levels, he was a legend to me and now I would be with him in a joint interview.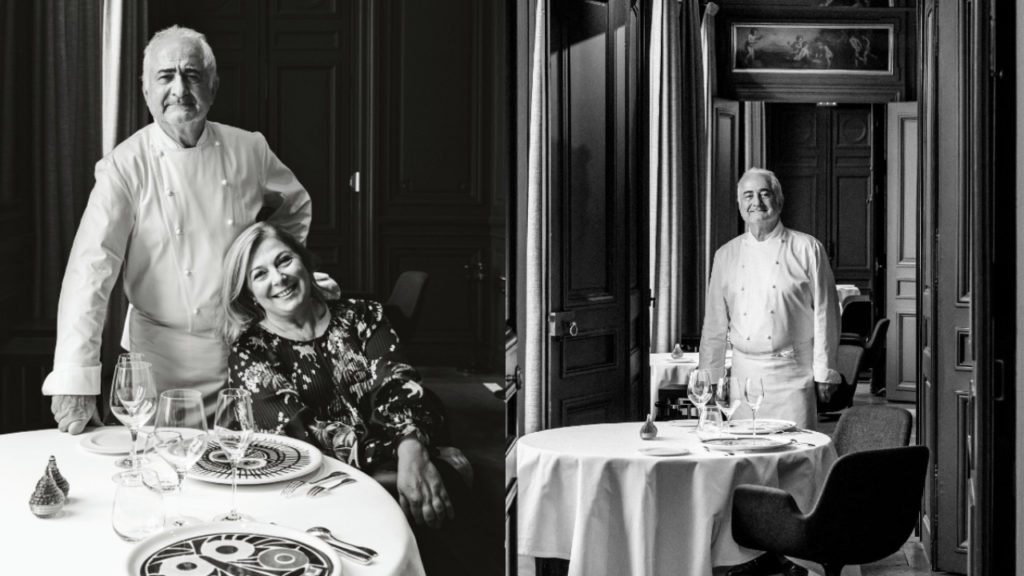 That day I enjoyed a great, full man, a creator. He knew all about my efforts to promote Greek cuisine and congratulated me live on the show. Modest, dignified, smiling, direct, and his every conversation a caress. This is how he met Guy Savoy, the master of French gastronomy, which developed into an invaluable friendship. Since then the chef met Evi Evane and loved it and I met the man because I knew and studied his kitchen for the last 15 years. I knew his 'weaknesses in certain materials, such as artichokes, oysters, and cherries. I had already tried the legendary dish – artichoke velouté with black truffle and brioche gruyère with truffle butter – which is on the list of the ten most famous dishes in the world. I had all his books of course and knew his entire career path. From the time I studied cooking at Cordon Bleu, there are some French chefs who have really made a mark on me and always inspire me. One of them of course is Savoy. Chef Savoy is French gastronomy in person and everything we love about it. The history, the finesse, the harmony, the art. He writes history like Paul Bocuse, Joël Robuchon, Alain Ducasse.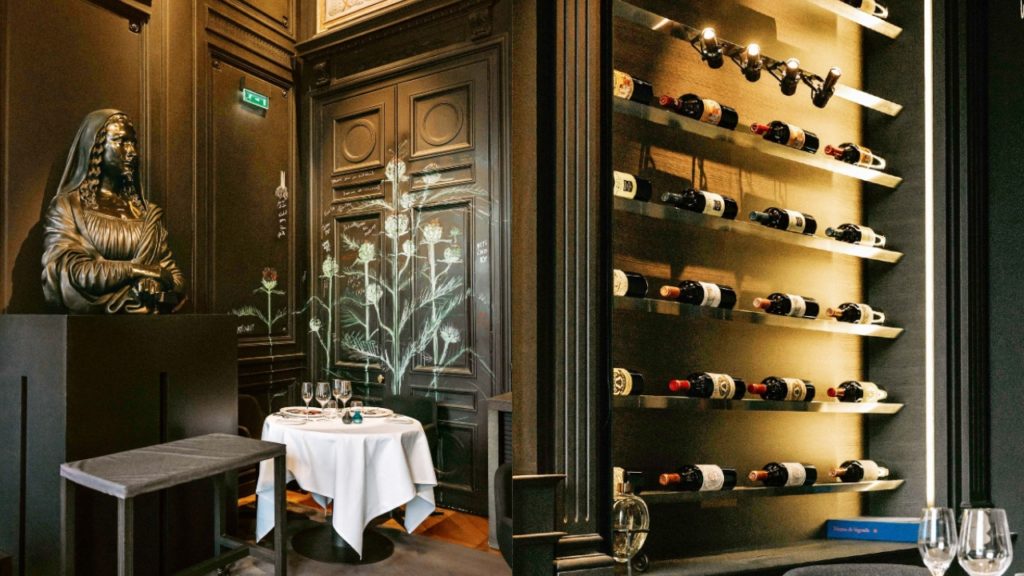 He was born in July 1953 in the French province of Nevers in Bourgogne to a cook and a vegetable producer.
It may be cliché and well-said, but children who have grown up in the fields and are close to the truth of the raw material have a different relationship with the kitchen and food.
Guy Savoy owes a lot to his mother.
That was his inspiration, his example.
She introduced him to the secrets of culinary art.
Mrs. Savoy had a restaurant in a small town near Lyon, which from a simple Buvette in the beginning – we would say an ouzorie, a tavern – developed into Esplanade, a dining area known throughout the region.
The little one reproduces his mom's recipes in the best way.
Trout omelet, wine rooster with snail butter, and other successful recipes will no longer have secrets for the 15-year-old boy.
He will prove it more than enough when he replaces her in the kitchen for two months when she is forced to leave the restaurant to undergo surgery.
But the star of little Guy had begun to shine in the firm.
He had no choice but to follow it and serve his one way to success because he had simply and magically been born under it.
Hard-working, steady, charming, and always with a teenage smile on his face, he was quickly seduced by the magic of haute cuisine.
He is guided by perfectionism, consistency, and empathy.
He moves forward with meticulous, studied movements and conquers the top.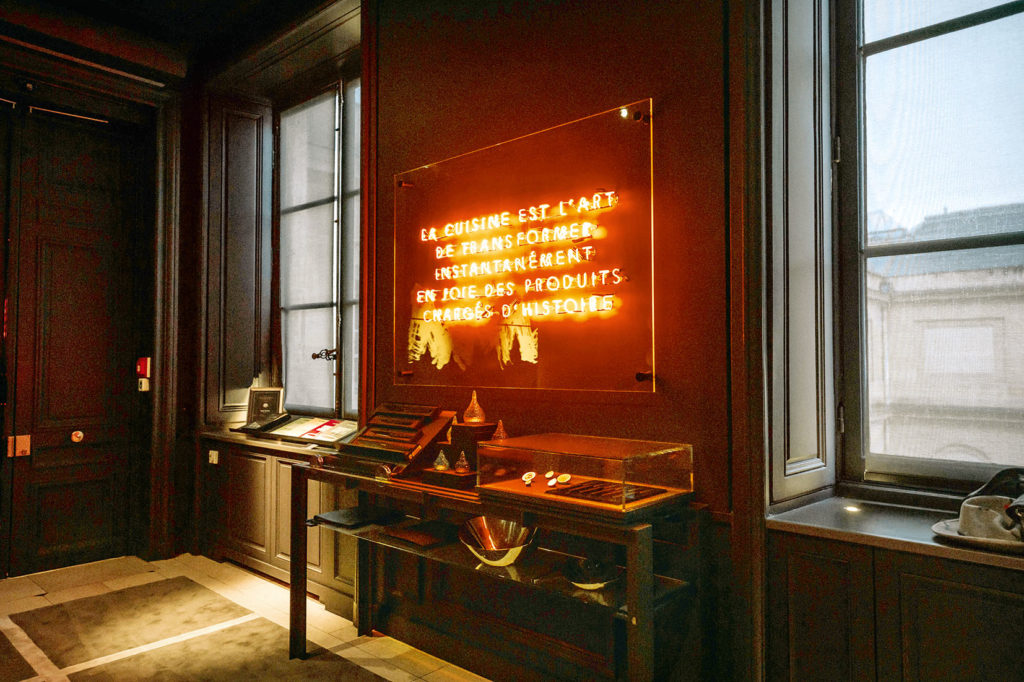 He creates and directs the Guy Savoy restaurant in 1980 and conquers three stars in Guide Michelin. He then creates his twin version in Las Vegas. Three other restaurants in Paris: Le Chiberta, Les Bouquinistes, and Atelier Maître Albert. Since 2015, when he decides to be transferred to the Monnaie de Paris, we find him in his restaurant, Restaurant Guy Savoy, located in the first-floor lounges, in the 6th apartment. This magnificent space, built in 1864, was renovated for the needs of the restaurant by his friend and famous architect Jean-Michel Wilmotte. The latter chose warm tones of gray to decorate the space, wanting to emphasize the light that comes in from the many successive windows overlooking the Louvre Museum, the Institut de France, the mythical Pont Neuf, and of course the Seine. Internally the central theme in every living room – six in a row – is the tables of course, where everything happens. The ceiling is painted by Fabrice Hyber and in the area, you can admire the unique pieces of the private collection of tycoon François Pinault. The restaurant also organizes exhibitions of contemporary artworks by the National Mint.
In the words of chef Guy Savoy himself: "We cooks must and are called upon to make the ephemeral unforgettable. There is no other profession in the world that better protect life than the cook. I respect the products and the raw material, but through them, I respect the people who worked for them. Whenever I take care of the best of these people, I feel that I am paying a little tribute to my parents, who everyone in his way struggled so much to be right in their job. My dishes are not only decoded by my sensitivities but also by my desires, and this is precisely the power of the creators. I hope my dishes look like mine. After all, I consume so much energy to create them. I study textures, temperatures, harmonies, and combinations and I have a beginning: no more than three different ingredients in each dish.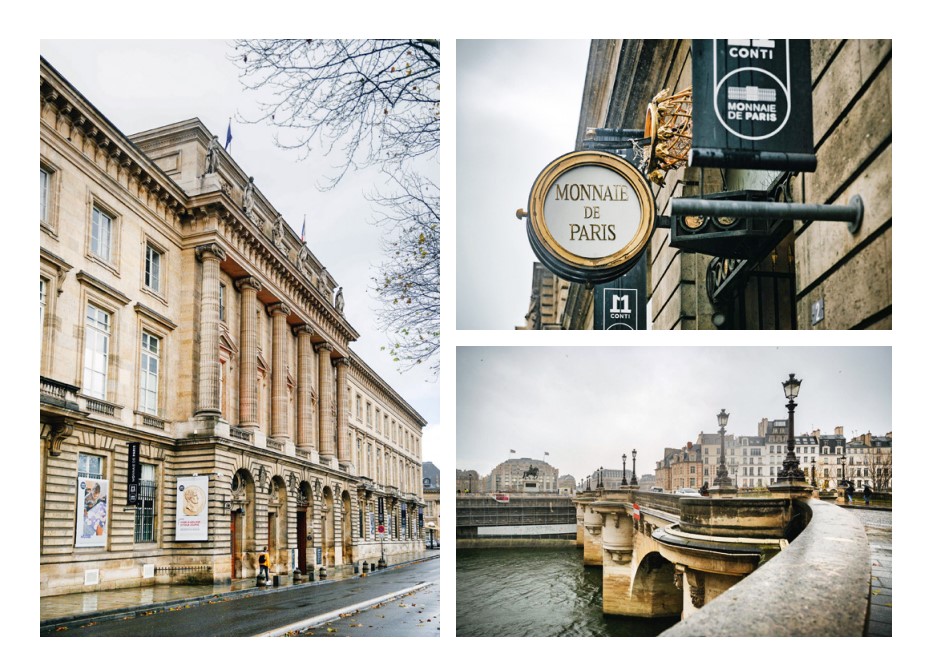 »I need 5 hours of sleep 24 hours a day and every day I am at my restaurant from 9 am to 1 am. I love walking around Paris and getting around on the metro. Every day I drink a liter of water with a little lemon juice in it and a few grams of Amazonian guarana powder. I exercise by doing Kung Fu, it keeps me in shape. In my kitchens everyone calls me sir, I detest "oui, chef", I prefer "oui, monsieur", the kitchen is not an army. Brigade is my team, my people with whom we share the same passion. People of different nationalities, different ages, and ideals, but all of the same values. I sometimes think that maybe I should have saved the energy I spent on my job, for 52 whole years. But then I look back and see everything I have conquered and I conclude that everything happened because I gave myself completely and passionately all these years".
Photos by: Yohann Borel