Photo by David Bailey/ Vogue Paris
by George Archimandritis
This year marks sixty years since the first collection was signed by Yves Saint Laurent, the designer who uniquely embodied the concept of French chic. It also marks five years since the creation of the Yves Saint Laurent Paris Museum, the first museum in the fashion capital dedicated to the work of one of the greatest fashion designers of the 20th century. The museum opened its doors on October 3, 2017, in the space where for almost 30 years, from 1974 to 2002, the French designer designed his famous creations.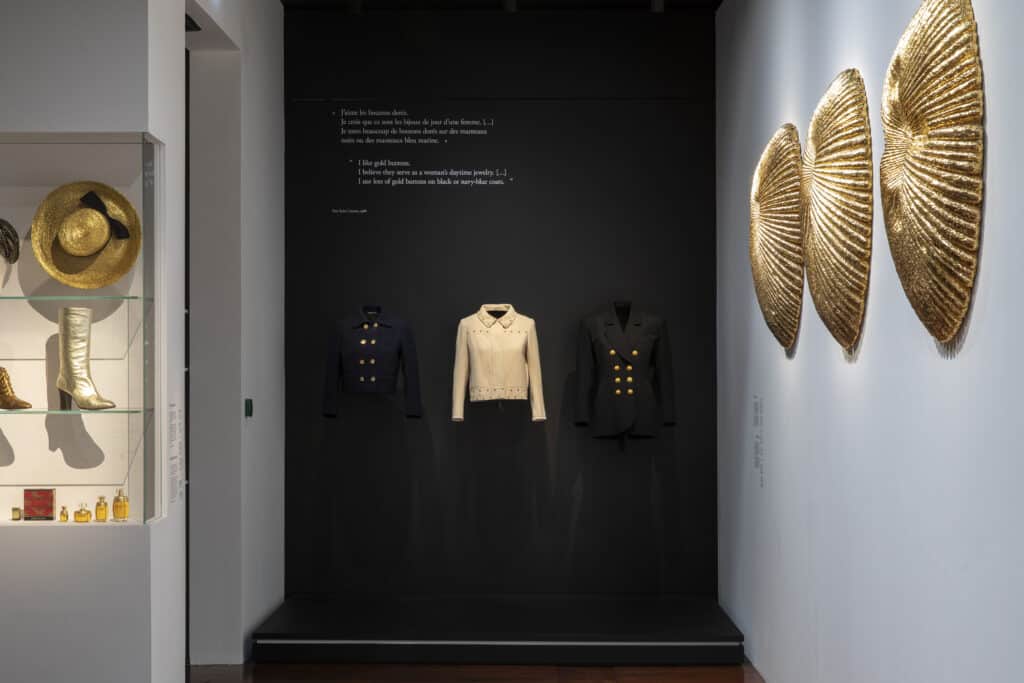 Jacket set with gold buttons, haute couture collection fall-winter 1965, 1966, and 1988, as presented at the GOLD exhibition.
In the same place, which from the closing of the house until the opening of the museum was the headquarters of the Yves Saint Laurent-Pierre Bergé Foundation, we met for the first time with Pierre Bergé (1930-2017), the partner of Yves Saint Laurent (1936- 2008) and manager of the homonymous fashion house. "When we met," he had told me, "I immediately knew he was a genius. And when we created the YSL haute couture house, there was no way we couldn't be the best. He was the most talented young dressmaker, he had the brightest future. I knew right away that it would revolutionize fashion." So it happened. Chanel had given women their freedom and Yves Saint Laurent the power. By dressing them in men's clothes, he gave them confidence and self-confidence, helping them to be themselves. "I never doubted our success," he continued, "nor did I ever wonder what would happen in the future. It was obvious we were going to be number one. Till the end".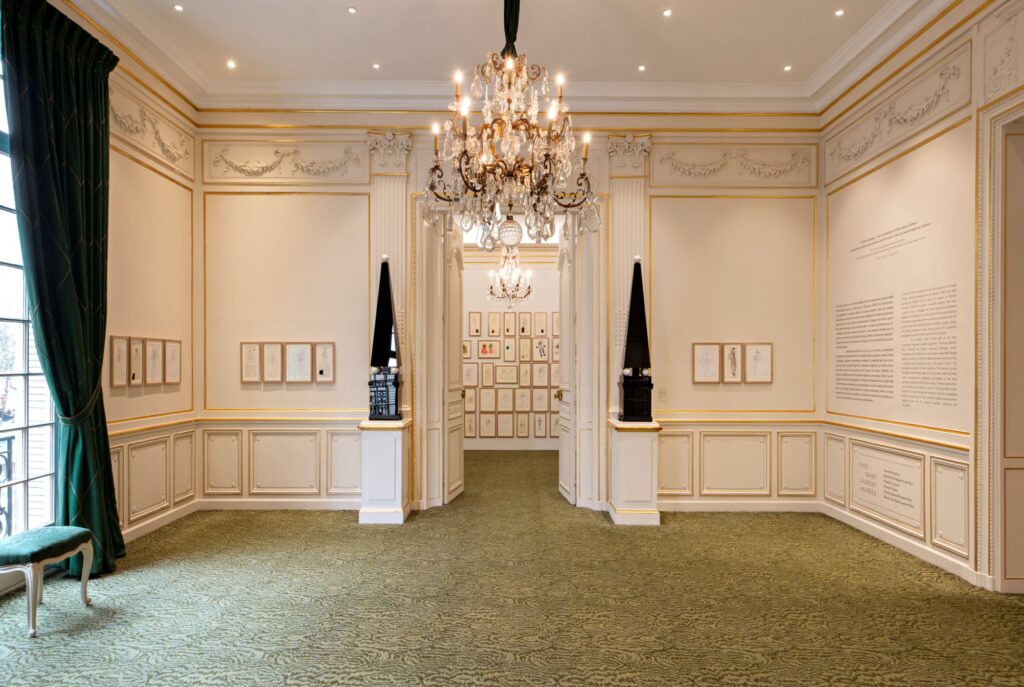 YSLauxmusées (© Nicolas Mathéus).
When I asked about fashion today, he told me characteristically: "There is no fashion anymore. There is no haute couture. Only two houses remain, Dior and Chanel, and they live entirely artificially. They continue to exist because their financial managers think haute couture helps them sell perfumes, shoes, and ties." And he continued: "In any case, today the women to whom haute couture was addressed no longer exist. Because haute couture is not art. It was born to accompany a certain way of life and a world that has disappeared. So it doesn't make sense to talk about haute couture anymore."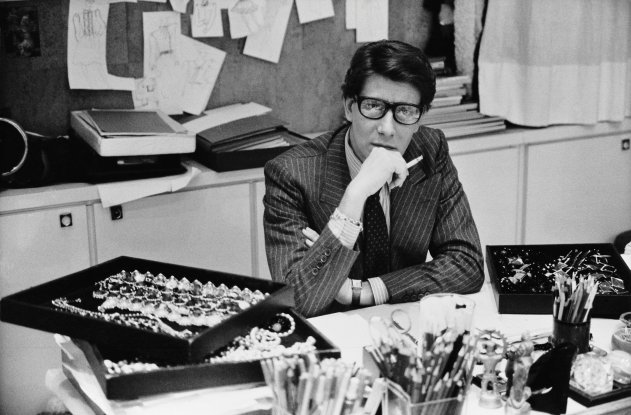 In the context of this lifestyle, it was perfectly acceptable for Pierre Bergé and Yves Saint Laurent to live openly as a couple. "We were never concerned about that," he said. "We never asked ourselves: 'We are not like the others', 'What will they say?' "Will they accept us?" "But I am fully aware," he continued, "that when you say 'Yves Saint Laurent and Pierre Bergé,' it is like saying 'Jean Cocteau and Jean Marais.' For us, there were no difficulties. But I am neither stupid nor blind. I understand very well how difficult it is to live your difference when you work, say, in a factory in France or elsewhere. I know it's not easy for everyone. And this is the reason why I have been fighting for the rights of homosexuals for a long time. I am not at all in favor of any community. I am, however, in favor of the right to indifference. I am not fighting for our difference to be recognized, but for us to have the right to live in indifference. Every person has the absolute right to do exactly what they want and express themselves." With Yves Saint Laurent, Pierre Bergé also shared the same passion for art. The first works in their collection were acquired at the beginning of their relationship. They met in 1958 and bought their first piece of art in 1960. It was an African Senufo bird. In 1966 they acquired the second of three major acquisitions that marked the creation of their famous collection. These were two large Dinan vases, which inspired their interest and love for the decorative arts. The third step was taken in 1971 when they bought the first artwork signed by an internationally renowned artist. It was a sculpture by Brancusi. Then everything went its way until the moment when, after the death of Yves Saint Laurent, Pierre Bergé decided to completely part with their collection. "What was important to us," he had told me, "was to acquire these works, to enjoy a Picasso, a Braque, or a Brancusi. It is wonderful to live so many decades next to such works. It was a collection that was created together, a collection that we shared and enjoyed together, a collection that we slowly acquired with systematicity, enthusiasm, and love. I am attached to these works. But on the day of Yves' death, I thought that objects don't matter. What is the point of a work by Brancusi or Picasso, when the one with whom I shared so many years is no longer here? »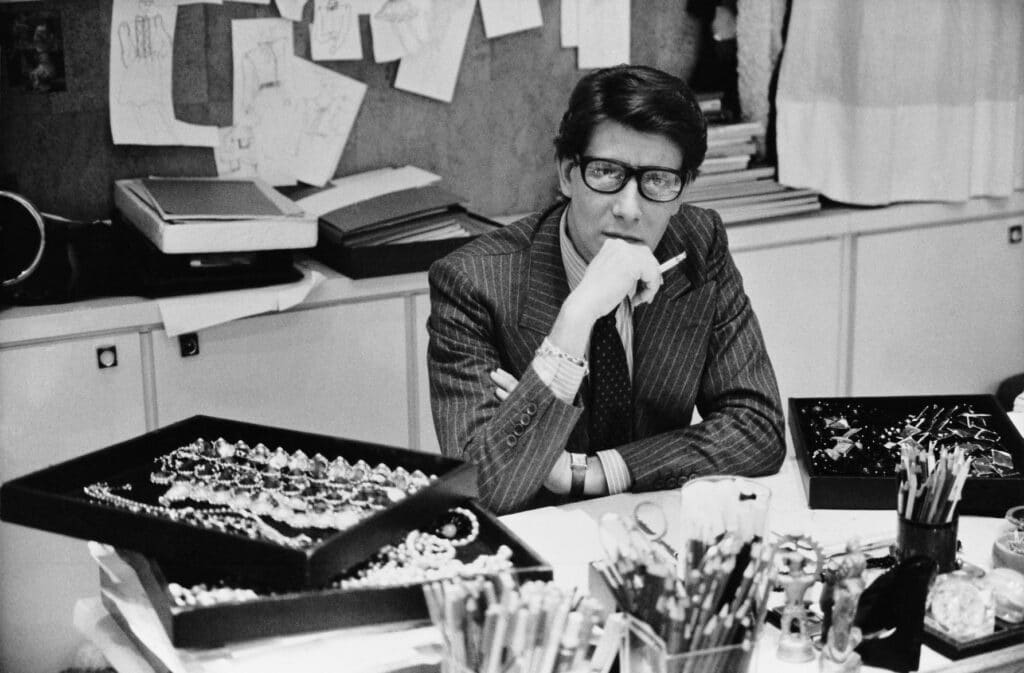 Yves Saint Laurent in his office, the studio at 5th avenue Marceau, Paris 1986.
But beyond that, the sale of the collection would financially support the Yves Saint Laurent-Pierre Bergé Foundation, which the two men kept alive with their own resources. The amount from the sale of the collection in February 2009 (€373 million), which was a major event in the French capital, was allocated to the operation of the Foundation, ensuring it a rich future. Because, beyond its cultural, humanitarian, and scientific actions, the theater, the opera, the museums, but also AIDS research, which was one of its main priorities, the Foundation had to preserve its work and its legacy Yves Saint Laurent as a fashion designer. The exhibition "GOLD – The gold of Yves Saint Laurent", which on the occasion of this year's double anniversary can be seen at the Museum Yves Saint Laurent Paris, explores the golden touches in the work of the famous couturier, through forty haute couture creations and prêtà-porter, and a wide selection of accessories, objects, but also jewelry – an essential element of the timeless Yves Saint Laurent chic silhouette. From the first gold buttons to the later all-gold dresses, no YSL collection is without gold, which has been a source of inspiration for the designer throughout his career. The chronological route of the exhibition echoes the bright personality of the famous couturier and reveals the dazzling diversity of the decorative elements, the richness of the fabrics, and the brilliance of the materials he used. From the jewel dress, she designed for the Fall-Winter 1966 collection, which was uniquely photographed by David Bailey, to the dresses of Zizi Jeanmaire or Sylvie Vartan, the creations of the exhibition transport us to an era of intense female emancipation and euphoria, in the years of the famous Le Palace club and the glamorous Parisian nightlife. Because as Yves Saint Laurent himself said: "I like to illuminate black with gold." "The night must always be bright…" GOLD Les ors d'Yves Saint Laurent, October 14, 2022-May 14, 2023, Musée Yves Saint Laurent Paris, 5 Avenue Marceau, 75016-PARIS