The renaissance of Parisian brasseries
by Dina Nikolaou
Paris always remains the point of reference when we wish to indulge in the analysis of the contemporary restaurant scene. It is where everything begins, in some magical way that seems easy and expected, that trends and dynamics are created. Clearly, it is also the absolute point where some trends end unexpectedly and we all who imitated run to save what can be saved! Such is this cosmopolis, and those of us directly or indirectly involved in the focus has learned to listen and "spy" on it. Those of you who have visited Paris will surely have eaten or had something to drink in one of the numerous brasseries. The first and one of the most famous to date was created by Leonard Lipp in 1877 in my neighborhood, on avenue Saint-Germain. And it had exactly the same philosophy as it still has today, you can go at any time of the day and eat or drink something simple, definitely traditional and unpretentious, without having booked a table or having arranged company. So simple, almost as in their first form, when the Alsatians took them to Paris, leaving their region when it was annexed to the German Empire, which was beerhouses. Wherever they brewed beer and consumed it in the same place. Almost all brasseries in their original form followed the Alsatian character in decoration, with copper details, wooden surfaces with glossy varnishes, chandeliers, mirrors, and ceramic tiles. Over time, brasseries became identified with Parisian charm and some of them were described as temples of Art Deco. In the areas of Montparnasse, Place de Clichy, and Gare de Lyon we have the most representative and impressive examples that have left their mark on Parisian cuisine.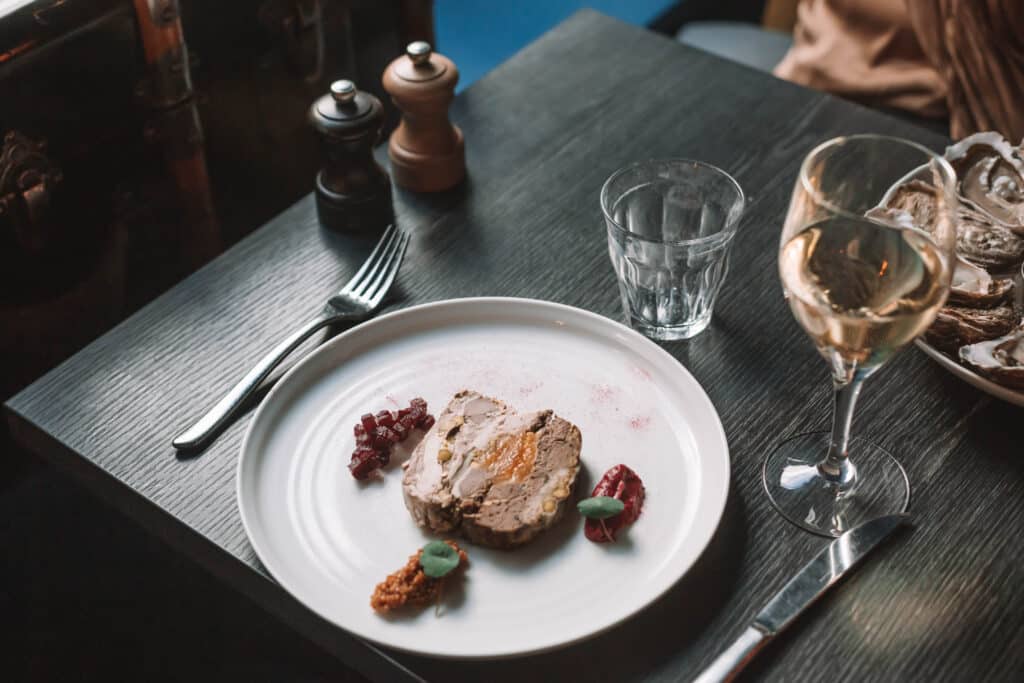 It is impressive how brasseries have withstood time and space, remaining a bridge between yesterday and today, and they are so numerous and historic, that it is certainly a matter of great analysis. Here I would like to introduce you to two of them, which in recent years have been owned by a talented young man, who has given them new life and created a current of renewal in many Parisian brasseries.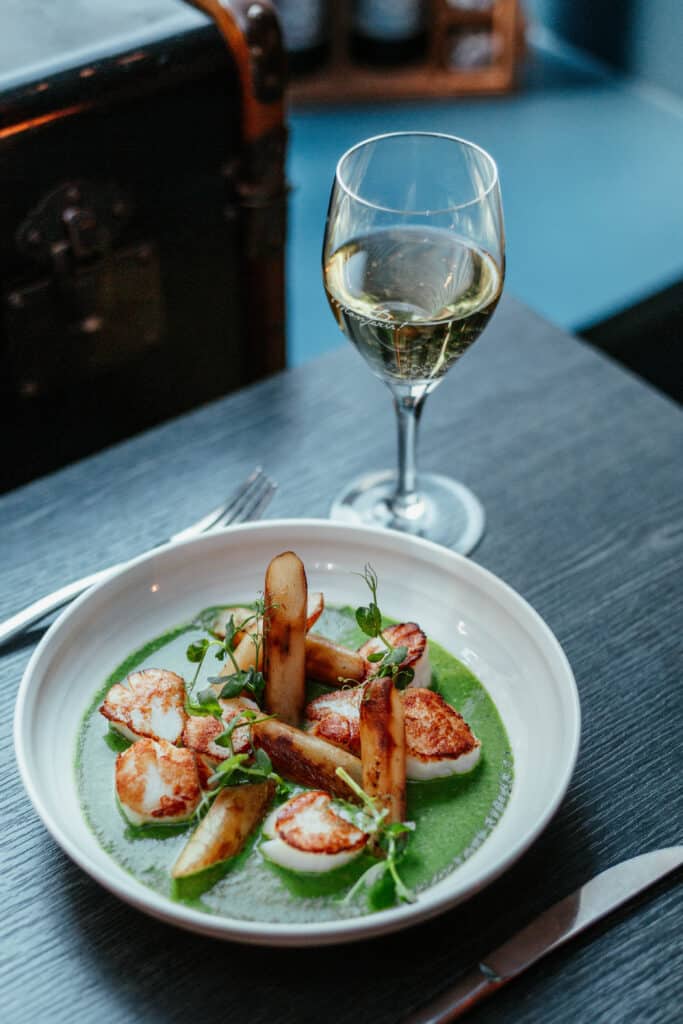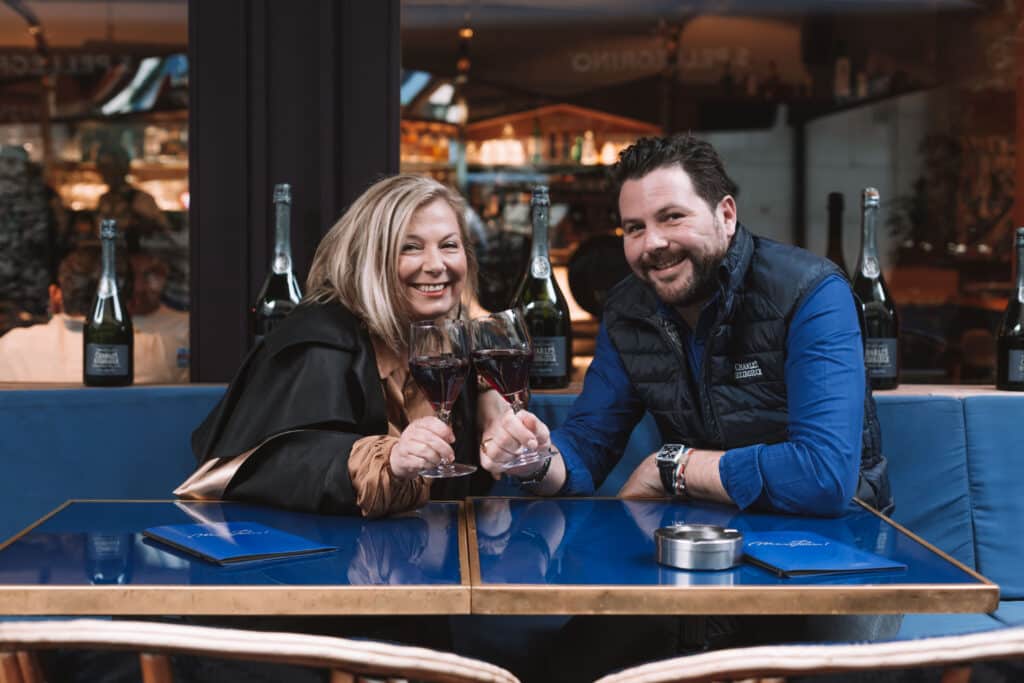 Dina Nikolaou with Valentin Rouliere at Mon Paris.
MON PARIS
You will find it in a focal point, on the pedestrian street Edouard VII in the heart of the most business and entertainment district, between the Place de la Madeleine and the Opera Garnier and a stone's throw from the theater Edouard VII and the music hall L'Olympia. Since 2015, it has been owned by Valentin Rouliere, a bold and brilliant entrepreneur who, despite his young age, has many successful restaurant concepts. "Through Mon Paris, my team and I want to revive the spirit of brasseries of other times – luxurious but atmospheric spaces, with impeccable but warm and not typical service. At a time when almost all the historic Parisian brasseries are owned by large and faceless multinational groups, we resist and are passionate about our culinary tradition, the quality of French raw materials, sourcing from small unique producers, and artisanal local products. So our oysters come from Cap Ferrat and we always source Joël Dupuch's number 3. The fois gras comes from the Landes region and the accompanying gingerbread is the best version of an ancient recipe. The poultry is also from the Landes and is the best we can find in France." Chef Olivier Perry, who is a key member of the Mon Paris team, shares the same passion and continues: "We only use fresh produce and not frozen, the kitchen is open and everyone can enjoy the creation process. A kitchen that I would describe as classy and, unlike almost all professional kitchens in the world, is located on the first floor, bathed in light and overlooking Edouard VII. The ultimate luxury for all of us who cook all day. If you observe our dishes, you will understand that French gastronomy is at the center. Not really revolutionary dishes, but that's exactly our strategy. Classic timeless French dishes in their best version and with the best French ingredients." Mon Paris is ultimately, so to speak, a high-standard gastro brasserie that breaks new ground, firmly treading on French culinary tradition and quality. I loved the lovely heated terrasse, enjoying a glass of Sancerre Comte Lafond Grande Cuvée blanc and gazing at the statue of Edouard VII, real peace in the center of Paris. I admired the stylish and perfectly updated bar, which welcomes the faithful at all hours of the day, keeping alive the "myth" of Parisian brasseries. Mon Paris has the Parisian finesse and bohemian character of the Parisian of another era. But most importantly, it's inspired and served by a team of people passionate about quality and style, and that's priceless.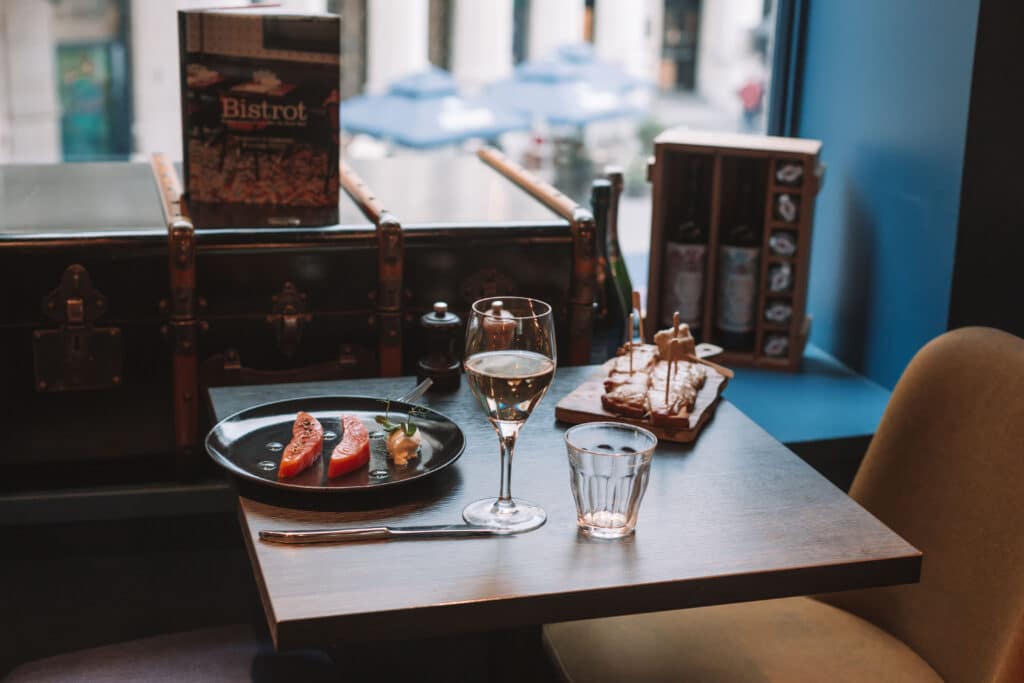 PRINCE WAGRAM
At the crossroads of Avenue des Ternes, Etoile, and Plaine-de-Monceau Valentin Rouliere and his team created or rather contributed to the rebirth of a gastronomic pub, a brasserie Parisienne. A meeting place for the whole day. The morning coffee date, the quick lunches with colleagues from work, the afternoon traditional Parisian coffee on the terrasse, the aperitif, the elaborate romantic dinner for two, and the drink at the bar after the theater! All in one place and all chic. I really don't think there are many places that can combine all of the above as masterfully as the Prince Wagram brasserie.
Dina Nikolaou, Valentin Rouliere at Prince Wagram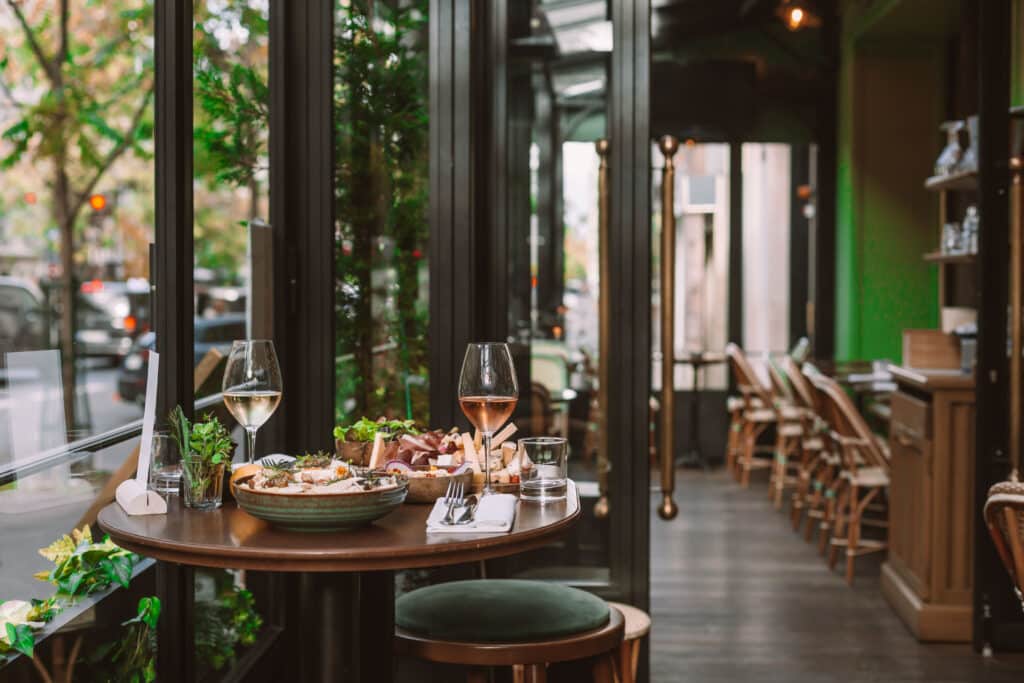 The kitchen here remains the core and all options and actions revolve around it. Quality, seasonal options with an emphasis on French products. Based on classic timeless French cuisine, but also with touches from the cuisines of the world, as befits such dining spaces that are lively and welcoming throughout the day. Fast, tasty, smart, and not expensive dishes are what work here. But without missing the finesse, the technique, and the quality, seasonal selection of the raw material. This combination is also his success. Without forgetting the wonderful decoration of affordable and chic luxury and of course without underestimating the passion and talent of the people who support it all. What we all know is that everything changes, even those that shouldn't, the issue is how they change, with which protagonists, and based on which plan.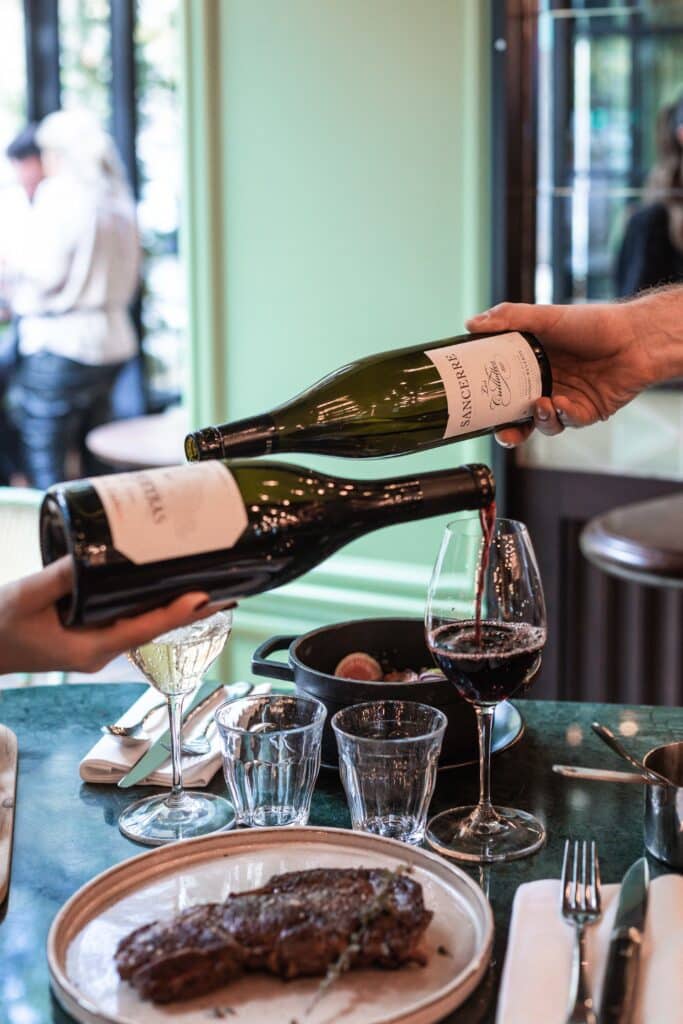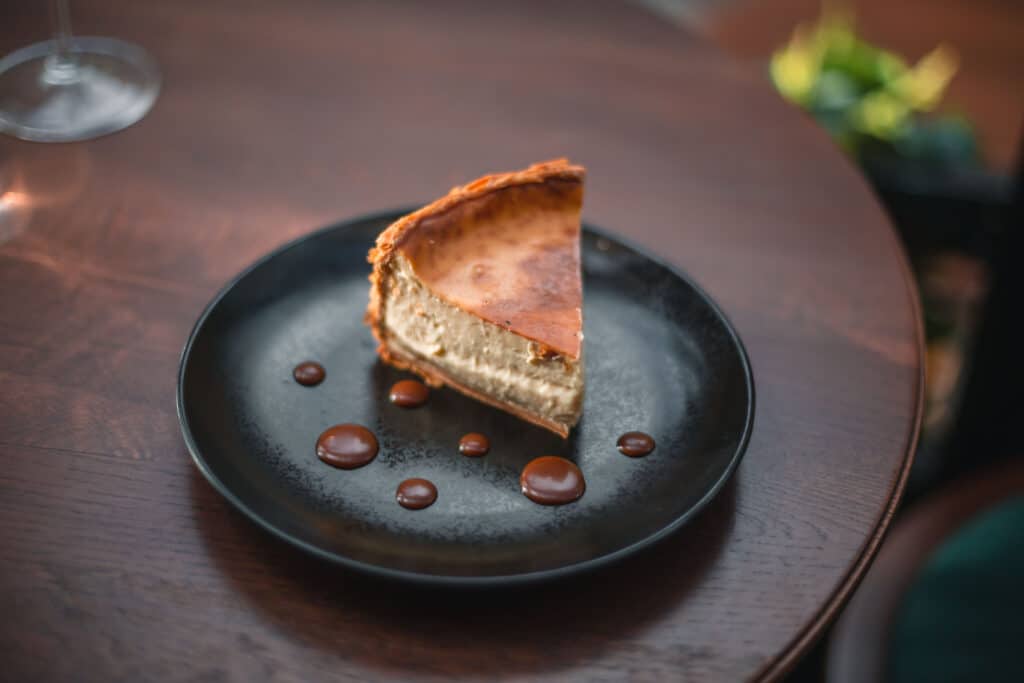 Photo by: Yohann Borel